To withdraw funds from your BTC Markets account to your Australian bank account,
log in and go to the Withdraw page.
Scroll down to the section 'AUD - Using Domestic Bank Transfer'. This facility allows you to request a withdrawal of AUD into your bank account, free of charge. Please note: This box advises the available AUD balance in your account. If you currently hold all your assets in crypto, you will need to sell this for AUD before you're able to withdraw to your bank account - see help article: How to Sell Crypto
If you are ready to withdraw AUD, click on the Green "Add Bank Account" link.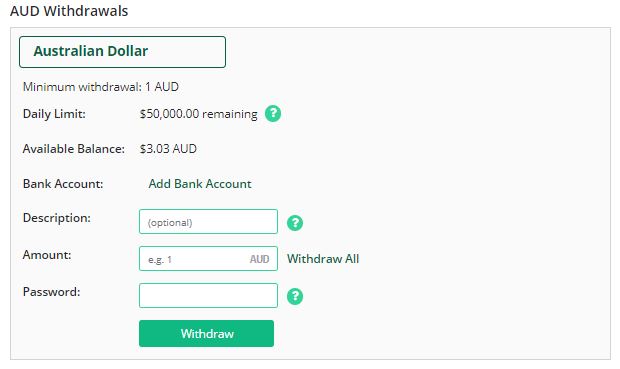 4. A box will pop up on the screen to allow you add your bank details.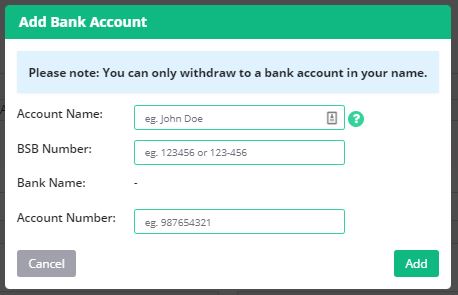 ​
5. Once you're bank details have been added, continue to fill in the rest of the withdrawal fields (amount and password), and when your ready, click the 'Withdraw' button.
Please note:
You can only withdraw to a bank account in your name;
There is a daily withdrawal limit;
You can add or change your bank account details here; and
You cannot withdraw cryptocurrency funds direct to your bank account. They need to be sold for AUD first - see help article: How to Sell Crypto
Transfers from your BTC Markets account to your nominated bank account usually process the next business day before 6 pm. But please allow 1-3 business days for this to occur.