Destination Tags are a feature of the XRP network that allows a specific identifier to be attached to a transaction. This is often used to distinguish individuals or particular payments. When sending in XRP to BTC Markets, it is necessary to add your Destination Tag to ensure the deposit is matched to your account.
Depositing (receiving) XRP into your BTC Markets account
BTC Market users are no longer required to meet the 20 XRP Reserve required on the Ripple network to activate and maintain a dedicated address. Instead, each user will have their own unique Destination Tag.
To obtain your XRP deposit address and Destination Tag:
Log in to your account
Select 'Account' from the menu bar at the top and navigate to the 'Deposit' section
Click on the drop-down menu in the 'Deposit Crypto' section and select 'XRP'
Click the 'Show XRP Address' button at the bottom
Important – Your Destination Tag must be added into the withdrawal request from the application you are making the transaction from. In the event you forget to add your Destination Tag to your deposit, your transaction will fail to send.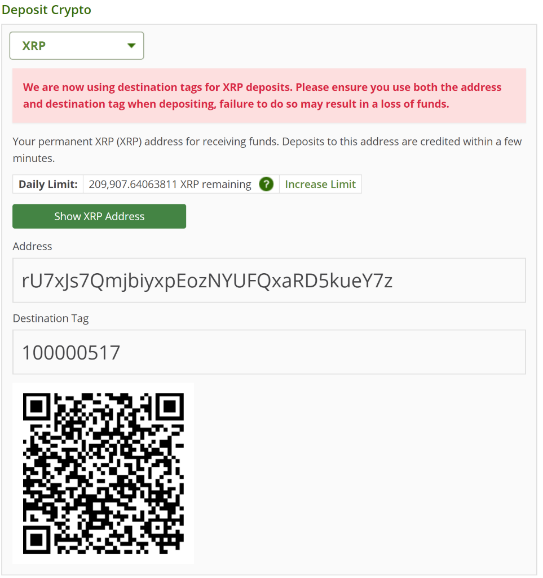 Withdrawing (sending) XRP from your BTC Markets account
To withdraw XRP to another address you first need to obtain the XRP address and Destination Tag. Some recipients may not require a destination tag, but it is very important to check first before sending any funds.
To withdraw XRP:
Log in to your account
Select 'Account' from the menu bar at the top and navigate to the 'Withdraw' section
Click on the drop-down menu in the 'Crypto Withdrawals' section and select 'XRP'
Select 'XRP'and add the wallet address
Select 'Add Destination Tag' and enter if required
Enter the amount you wish to withdraw
Click withdraw