Introduction to Recurring Transactions on BTC Markets
Recurring transactions enable you to automate the purchasing of various digital assets on BTC Markets. These purchases can be set up to occur on a daily, weekly, or monthly basis, and you can choose the date and time that these transactions occur. This allows you to build your investment portfolio over time on a consistent basis.
Bitcoin (BTC), Ethereum (ETH), XRP (XRP), Litecoin (LTC), Chainlink (LINK), and Algorand (ALGO) are all available for recurring transactions on BTC Markets

How to Create a Recurring Transaction
1. Navigate to the 'Recurring Transactions' tab on the Buy/Sell section of your account.

2. Click the 'Create' button in the top right of the screen.

3. Enter details for your recurring transaction in the 'Create Recurring Transaction' pop-up window.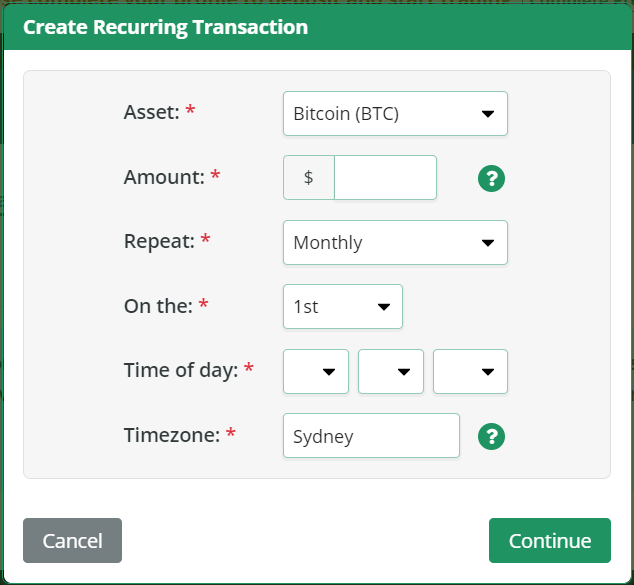 Asset: Select the asset you want to make into a recurring transaction.
Amount: Enter the AUD amount you wish to purchase. The minimum purchase amount for a recurring transaction is AUD $10, and the maximum amount is AUD $1,000.
Repeat: Select if you would like the transaction to occur daily, weekly, or monthly. Depending on your selection, you can choose the days of the week/day of the month that the transaction to occurs.
Time of day: Choose the time of day you would like the transaction to occur.
Time zone: Select your time zone by typing in the name of your capital city.
4. Confirm the details of your recurring transaction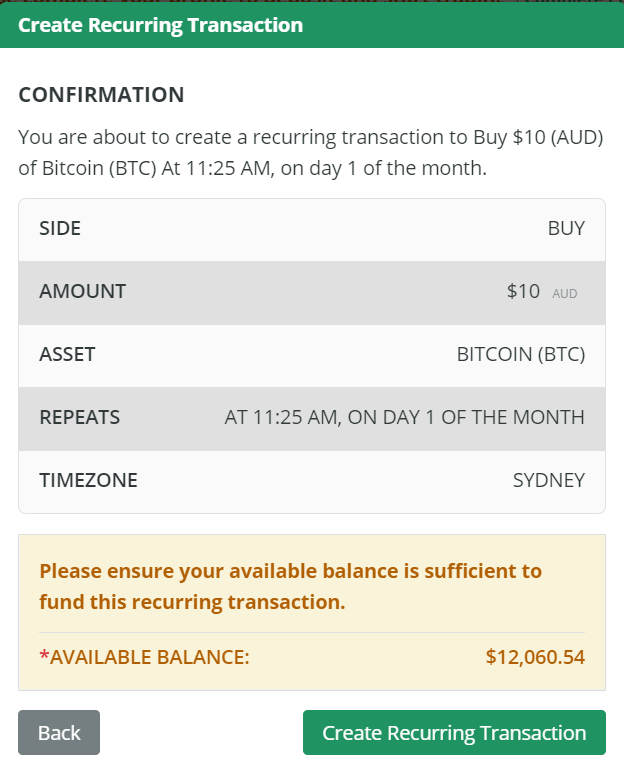 5. Your recurring transaction is now created and will be displayed in the 'Recurring Transactions' section of your account.
Please note: If a transaction cannot be executed due to insufficient funds, customers will be notified by email. If there is a system outage/downtime during the scheduled transaction time, the transaction may not be executed.