How do I withdraw crypto to an external address/wallet?
To withdraw funds, click "Account" and "Withdraw"

Navigate to the Crypto Withdrawals section and complete all the input fields. Please make sure you enter the correct crypto address. If you want to withdraw all your funds, you can save time by clicking the 'Withdraw All' button.
Confirm that you have entered everything correctly, and then click the 'Withdraw' button.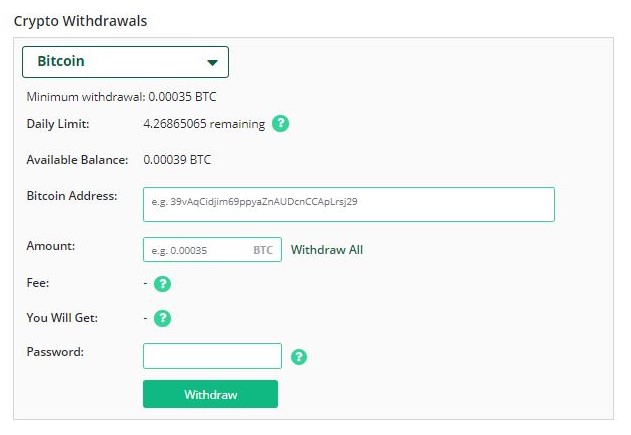 Why do I have "Pending Funds"?
Your available balance may be less than expected due to pending funds. When you create an order, the money shows as pending and is entered in the order book. Pending funds are released when the order has been matched or cancelled. To cancel an order, navigate to "Buy / Sell", then "Open Orders" and then cancel the required open orders. The funds will be returned to your balance immediately so you may trade again or withdraw.
I have tried to withdraw but I get the error "Insufficient Funds"
You can only withdraw funds up to the amount of your available balance. If you are getting the error "Insufficient Funds" unexpectedly, you may have some open orders that are holding some funds. You may wish to cancel your open orders to be able to be able to withdraw those funds. To see if you have any open orders, click on "Buy / Sell" and then "Open Orders" and then you can cancel any open orders. You can view your account overview to confirm any unprocessed withdrawals or open orders (as indicated by pending funds).
Why is my crypto withdrawal pending?
First-time-user withdrawals are subject to a security check to ensure they are not fraudulent. We can see all withdrawals and they will be processed once they have been cleared by our fraud-prevention systems.
Why are my withdrawals unavailable?
Withdraws might be temporarily unavailable for a number of reasons, please see our help article: Withdrawals Unavailable? for further information.