At BTC Markets we offer a number of methods to deposit AUD into your account: Card deposit, Osko (PayID) and via direct deposit using an individual BTC Markets BSB and Account Number.
Osko is a free and instant deposit method using PayID. You can use Osko from any Australian bank account that supports Osko payments.
To make an Osko deposit:
Sign in to your BTC Markets account.

Select 'Account' in the menu and then '

Deposit

'.

Select '

Osko' from the drop-down menu to view our Pay IDs and your unique Osko deposit reference number. Please note: Your reference number is used to match your Osko deposit to your account.

Navigate to your banking application and select the option to make a deposit. In the deposit section, make the transaction out our Pay ID: payments@btcmarkets.net

Depending on your banking institution's interface, you will need to enter in a description, detailed description, message, memo or reference. In this field, enter your unique Osko deposit reference number.
Submit the payment to complete the deposit.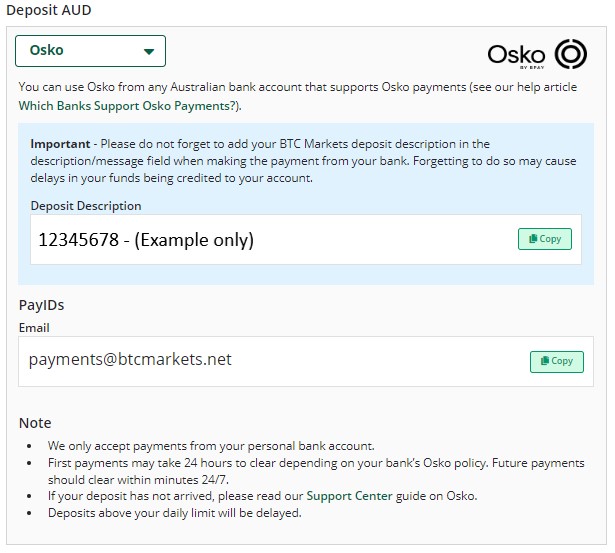 Please note the following:
We can only accept payments from your own personal bank account.
Please check with your bank whether you are able to make Osko payments, as not all banks support this service.
First payments may take 24 hours to clear depending on banking policies. Future payments should clear within an hour 24/7
Do not send amounts above your limit otherwise your deposit will be delayed
Important - Please do not forget to add your BTC Markets account number as the deposit reference, message or description depending on your bank's user interface for each deposit you make. This will ensure your deposit is processed as efficiently as possible. Please also ensure that your name is displayed on each deposit you make.
Please contact your bank or financial institution for more information on how to make this payment from your cheque, savings, debit or transaction account. More info: www.osko.com.au.